Blockpass provides a comprehensive KYC for Businesses
We verify:
1) ID / Passport / Driving License
2) AML (Sanctions, PEPs, 1000+ registers)
3) Face Match (Real face vs Picture on the ID document)
4) Proof of Address
Onboarding Steps Summary:
If you intend to use the Pay-as-you-go Plus/Standard Plan
Creating a Business account, Business service and select the Plus/Standard Plan

Completing the Configuration and adding Bank Card Details

Sharing the KYC link with users
If you intend to use the Enterprise Plan
Creating a Business account, Business service and select the Enterprise Plan

Finishing the Enterprise Order Form and joining the Telegram group for the priority support (received via email)

Following the instructions of Blockpass Team to complete the onboarding process
_________________________________________________________________________________________

STEPS TO GET ONBOARDED WITH BLOCKPASS
1) Create your first Business Account
Visit console.blockpass.org to be redirected to the Blockpass single-sign-on system.
Then click on link to register a new account, and follow the on-screen instructions.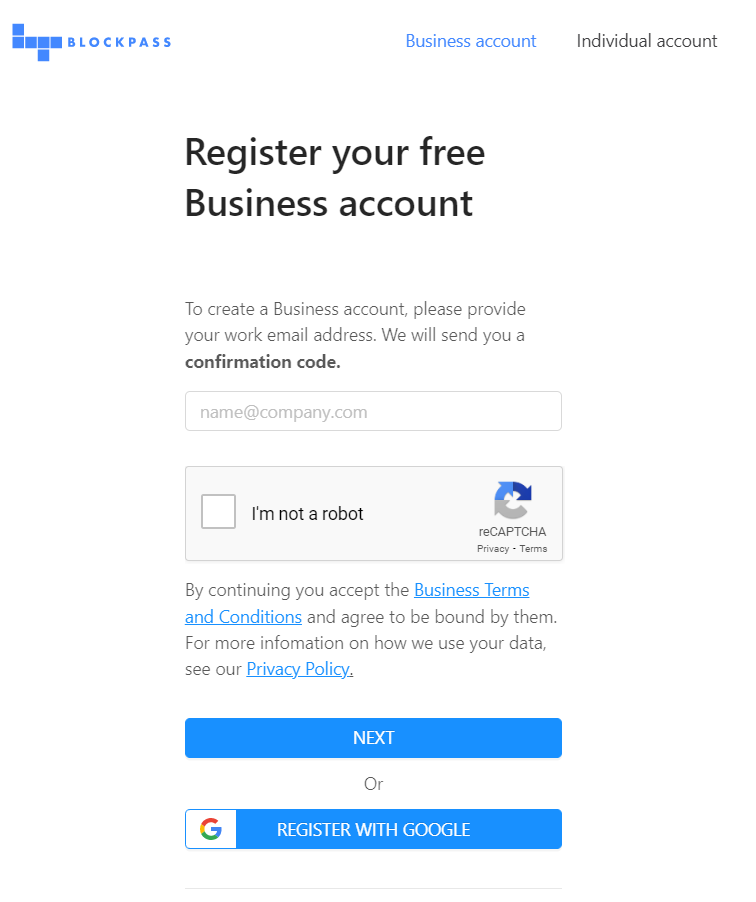 You will need to:
Accept the Business Terms

Provide and then verify your email address (using the verification code emailed to you)

Choose a user name and set your password for the account
You will be automatically logged in, and your browser may automatically redirect back to the Admin Console home page.
2) Create your first Business Service
After signing up and logging in to your Business account, you need to create a Business service. Choose Services in the left navigation bar to create a new service.

Create a service
Click on the Create Service button. The new service form will be shown.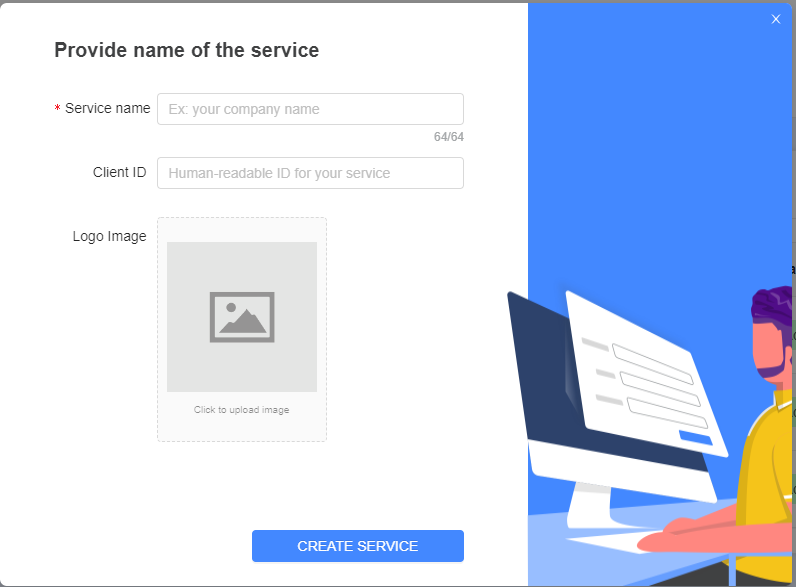 You must provide a name for the service. You can also optionally provide:
A customized client ID that will be used in URLs to access your service

A logo that will be used for your service
Once filled, click the Create Service button.
Once the service has been created you can click Go to the dashboard on the dialog that appears to follow a brief introduction of the KYC Connect process, or you can close the form and continue configuring your new service.
Now your service is created under Free Plan, you can use the Free Plan service for testing with no fee required. Note that you can receive only unverified identities during the testing.
3) Select a paid Plan for your service
Once finishing testing and deciding to use the service, the next step is to select a paid Plan. If you are in the Admin Console, you need to click on the service logo/service name to be forwarded to the Configuration page.

Click the PLAN tab will bring you where you can select a Plan. The default tab when you click on a service will be the DISPLAY tab, .

At the PLAN tab in the Admin Console, click on the 'SELECT A PLAN TO UNLOCK FEATURES' button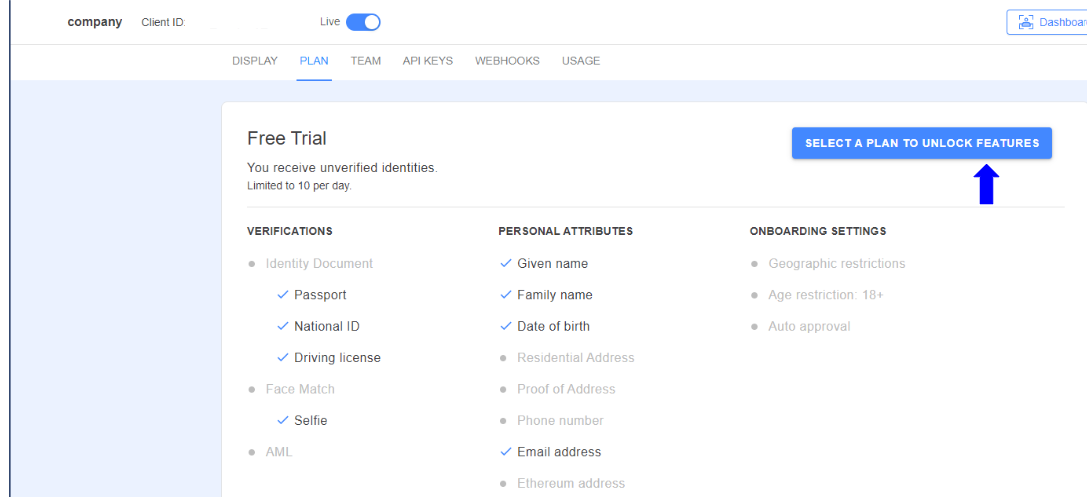 3.1) Select the Enterprise Plan
(If you aim to use the Plus/Standard Plan, ignore this one and check section 3.2)
Noted: You are required to select the Enterprise Plan in case you need the KYB service/On-chain KYC/Enhanced KYC Verification or KYC service customization
Continuing the registration by clicking on 'CONTACT SALES' at the Enterprise option.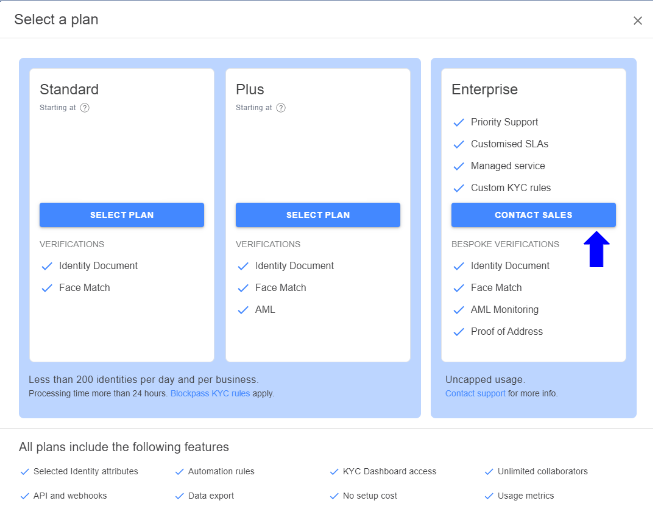 If you already added the company details then keep clicking on the 'CONTACT SALES' button to register the Enterprise Plan.
If you have not already done so or would like to add a New company, kindly fill in your company details then register.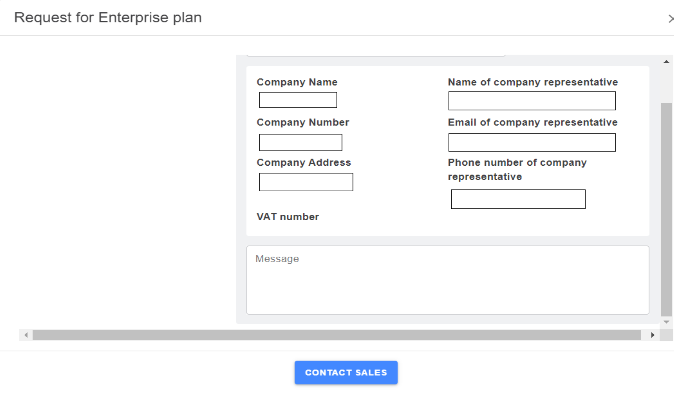 4) Add your valid bank card details
No matter which plan you intend to use or you want to pay by Crypto (Enterprise client), adding your payment card details is a mandatory requirement.
You should ensure that your bank card details are up-to-date. In the event that Blockpass is unable to collect the payment Blockpass reserves its right to terminate your access to the Service created.

Click on 'ADD PAYMENT METHOD' to add your Billing Information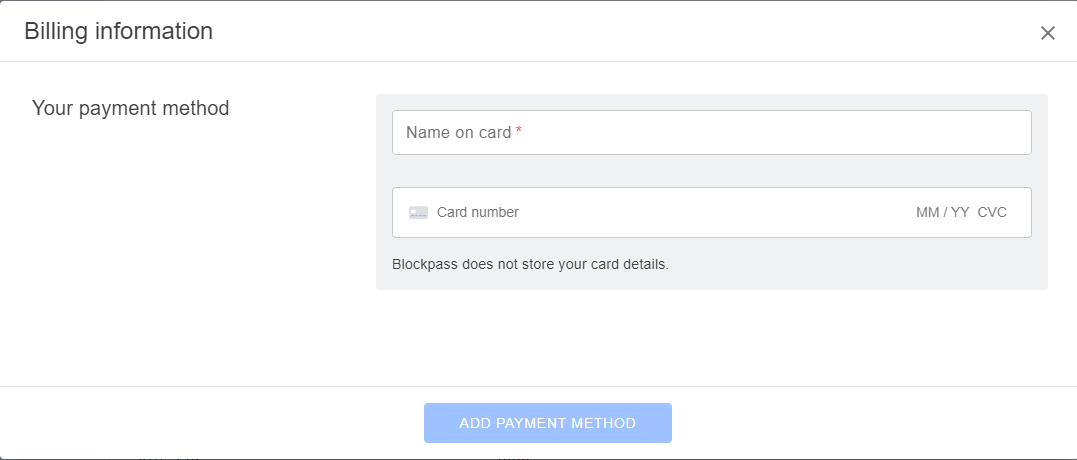 After all, Blockpass will send you an email containing an Enterprise Order Form and a Telegram group link where we can resolve your queries and help you to complete on-boarding.
3.2) Select a Pay-as-you-go Plus/Standard Plan
(If you already select the Enterprise Plan, kindly ignore this part)
You can only use the pay-as-you-go plan if the volume of users is less than 200 per day and per business. If your service passes this usage then you are required to upgrade your service to Enterprise Plan.
Continuing the registration by clicking on 'SELECT PLAN' at the Plus or Standard option.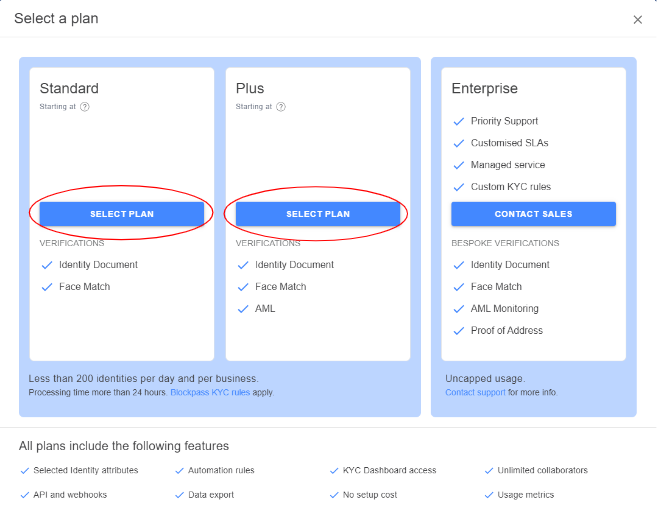 Kindly refer to the following article (from section 2 onwards) to register your service and finish the configuration for your Dashboard:
https://help.blockpass.org/hc/en-gb/articles/360058951894-Service-configuration-Plan
Any questions about onboarding your service, kindly contact us by sending an email to sales@blockpass.org.