The 'PLAN' Tab allows you to select an appropriate plan for your service, configure your service and add your bank card details.
1. Select a Plan for your service
In this section, you are able to choose the plan that suits your needs and requirements. The difference between a free plan and any of our paid plans is identity verification. Please note that the free plan is subject to a fair use requirement. Please check the Console and Plan section for details on fair use requirements.
You can request the same amount of personal information using a free plan, but the data will not be verified. If you choose a paid plan instead, you will not only receive the data from your users, but also Certificates that contain results of all the checks done by Blockpass.
We currently offer 3 paid plans: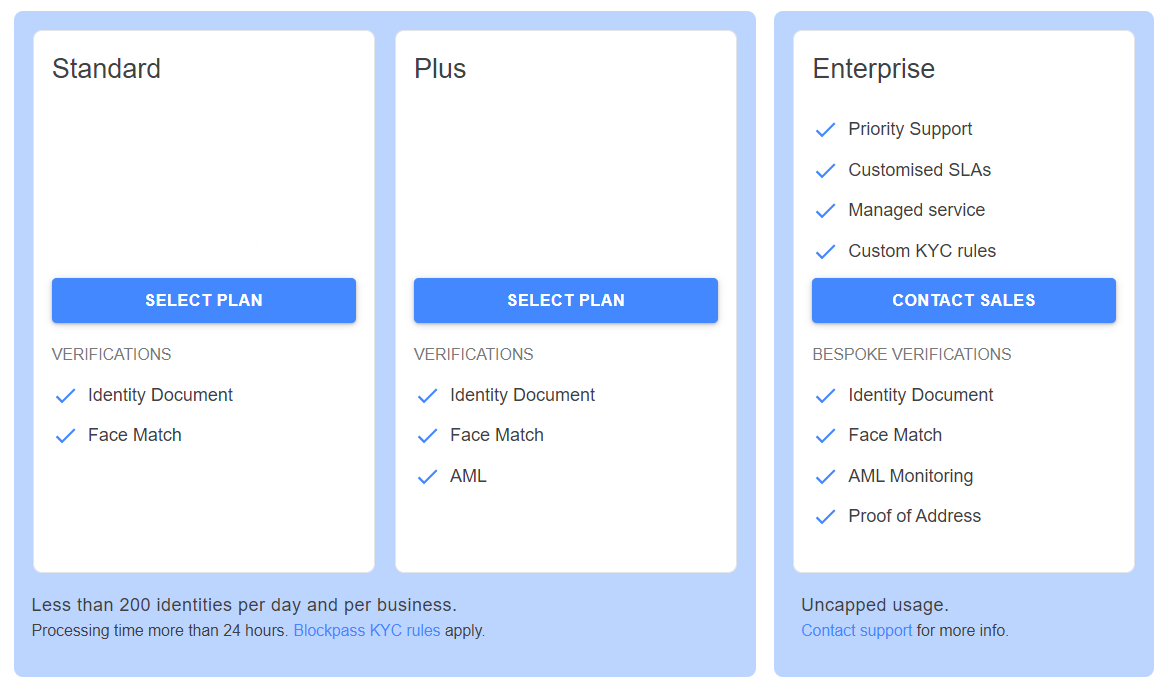 Payment methods:

* For Enterprise Plan, we require the use of a Bank Card for the first pre-payment.
If you require a customized plan, please select Enterprise and reach out to our Sales Team - sales@blockpass.org with your requirements.
2. Service configuration - Payment methods
Here you can customize the requirements of your service in accordance with your needs or internal procedures.
Note: Requirement changes do not apply retrospectively. If you have a user who already applied with different settings and you want them to apply in accordance with the new settings, you may need to delete their application from your dashboard and ask them to re-apply.
Changing the requirements is straightforward - just toggle the ON/OFF button and click SAVE at the end of the process
After selecting a Plan, then proceed to the 'Configuration' steps:
2.1 Verifications:
Here you can select the types of Identity Document that are allowed to be submitted to your service by ticking or un-ticking the box accordingly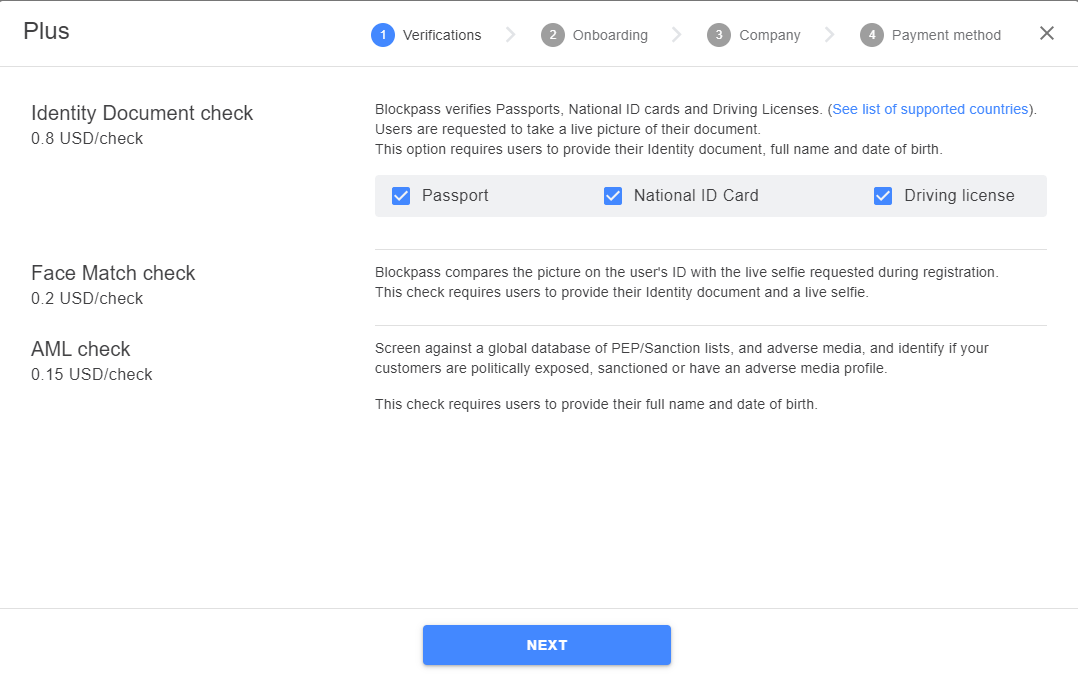 Click 'NEXT' to go to the second step
2.2 Onboarding
This section is where you can decide what kinds of document/information you want to collect from your users
* Given name/ Family name/ Date of Birth/ Email are default information collected by Blockpass
You can request additional information from your users during onboarding by ticking the box accordingly.
For instance, If you require to collect the 'Residential address' and 'Ethereum address' of users, please tick these box and leave the others blank.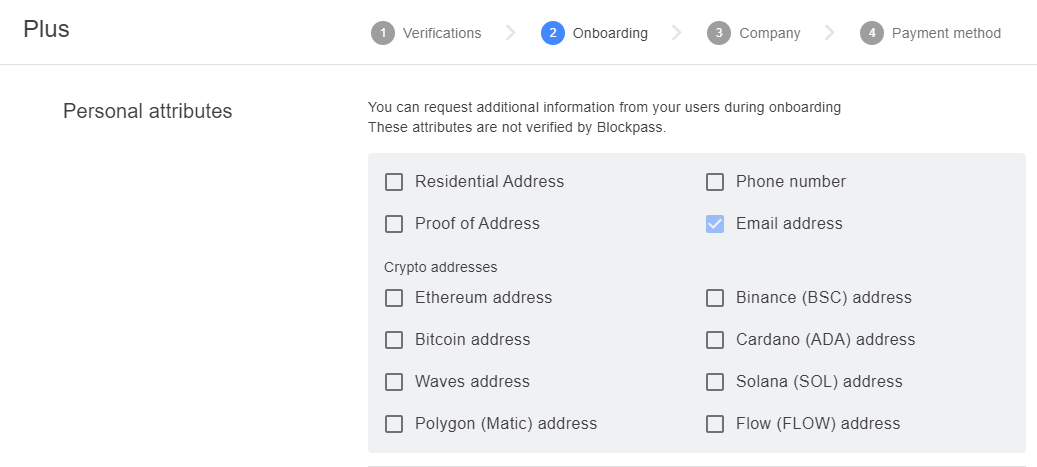 If this requirement is on, additional setting will appear, which allows you to add/edit/remove the minimum age requirement for your service. If the criteria is not met, user will not be able to apply to your service.

You can exclude residents from some countries or accept only residents of others. This option requires users to provide their Residential address.
Please make sure you tick the 'Country restrictions' box before adding the banned list.

There are three options in this section. Turn on the approval mode by clicking the option accordingly.
- Manual: Available in all Plans, this is selected when the customer wants to manually review all profiles are submitted to the dashboard including ones that pass all checks.
- KYC Bot: Available in all Plans. When enabled, a profile with all verifications returning as CLEAR result is automatically approved and notified. If a profile is flagged by Blockpass system, it is required to go through the auto/ manual remediation.
- Advanced KYC Bot: Available inEnterpriseplan. The Advanced KYC Bot includes a set a pre-determined rules. The bot analyses the user's data and auto-approve, auto-block or auto-reject attributes based on verifications.

Note: Don't forget to click the "Save"button.
2.3 Company
At this field you can see your company information that you filled in before creating your service, you can add a new company details or change an existing company if you already added in the past.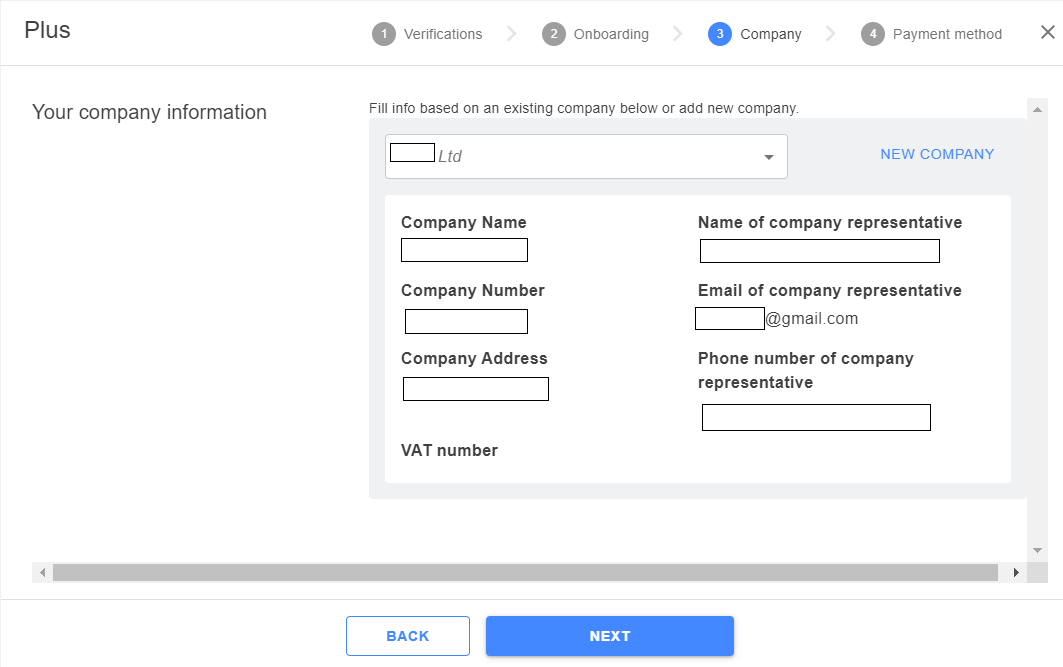 You can of course edit the company details after completing the onboarding procedure, please kindly inform to Blockpass before you make any changes to your company profile.
2.4 Payment method
No matter which plan you are intend to use or you want to pay by Crypto (Enterprise client), adding your payment card details is a mandatory requirement.
Note: You should ensure that your bank card details are up-to-date. In the event that Blockpass is unable to collect the payment Blockpass reserves its right to terminate your access to the Service created.
For Enterprise services, Clients enter into a monthly subscription based on minimum use. In addition, a prepayment is required before starting an Enterprise Plan. Enterprise Clients must complete the prepayment by bank card then are able to top up in cryptocurrency as well as via bank card in the second payment.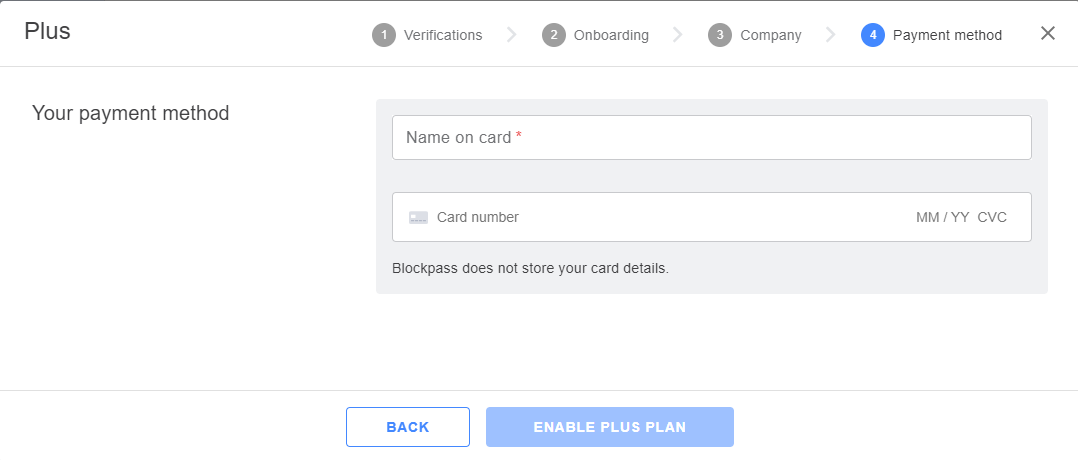 After all, click 'ENABLE __ PLAN' to start using your service.
The above guidance is applied for 'PLUS' Plan. If you select 'STANDARD' Plan, the only difference is that the verification will not include the 'AML check'.
At the end of the process, generate a verification link (at the end of the DISPLAY page) or use our QR code widget to share it with users and start on-boarding them.
If you pick the 'ENTERPRISE' Plan, Blockpass will send you a Telegram group link for priority support and an Enterprise Order Form to fill out your KYC requirements. Please note that your Enterprise service is not ready to use until we finish the onboarding process for you.